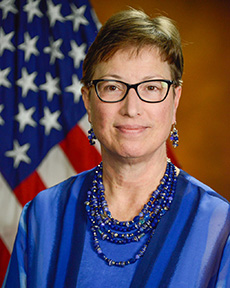 Opening Event
Thursday, August 10, 7:00 – 9:00 pm
Linz Hall and Tycher Gathering Space
The Good Fight
Serving on the Front Lines of Justice
Sharon R. Kimball
Associate Director
Organized Crime Drug Enforcement Task Forces
United States Department of Justice,
Washington, DC
For questions and RSVP: WRJ Office phone at Temple. 214-706-000, Ext. 105 or jtreasures@tedallas.org (Judaic Treasures)

Sharon has been the Associate Director of the Department of Justice's Organized Crime Drug Enforcement Task Forces (OCDETF) in Washington, D.C., since April of 2008. In that capacity, she manages a national law enforcement program comprised of thousands of federal prosecutors and investigative agents whose mission is to identify, investigate, prosecute, and dismantle the most significant drug trafficking and money laundering networks that affect the illegal drug supply in the United States and the drug-related violence and other crimes that come with highest-level drug trafficking.
Sharon began her government career in January of 1990 as a financial institution fraud prosecutor – an Assistant United States Attorney – in the United States Attorney's Office in Amarillo, Texas. In January of 1994, she re-located to the U.S. Attorney's Office in Albuquerque, New Mexico, where she was the Executive Assistant United States Attorney, White Collar Chief, Violent Crime Chief, Southwest Border Liaison, and Lead OCDETF Attorney. She has prosecuted cases ranging across the spectrum of federal criminal jurisdiction, focusing most heavily on complex drug and money laundering prosecutions, including wiretaps.
Sharon is a native Texan, having been born and raised in the Texas Panhandle. She holds a bachelor's degree in history and Spanish from Rice University in Houston (1975), and a law degree from Harvard Law School (1979). After college she was a high school Spanish teacher in a Houston suburb. After law school, she was a judicial law clerk in Houston, an associate at an international Wall Street law firm in New York City, and a partner in a civil litigation law firm in Amarillo. She is married to Bob Kimball, a recently retired Department of Justice attorney. They have two sons and two baby granddaughters.